Join Steve Hundley and Krisstina Wise for a power packed workshop!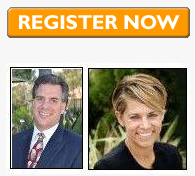 The key to securing more buyers is to be the one with the most listings. Sounds simple, right? However, there is more competition for listings than ever before.
The 7 Steps to On-line Farming and Hyper-local Marketing is designed to demonstrate to brokers, teams and listing agents how to be take command of listings and thus buyers through on-line and off-line target marketing strategies.
Brokerage leadership will find this NEW farming technology of particular importance in their ability to assign on-line farm territories to their qualified agents in a compelling and effective manner.
If you intend to lead the industry with a proven and leading edge NEW farming technology, than this Webinar is a MUST!
Want to learn from the best? Join Krisstina Wise, Principal/Broker of The GoodLife Team, and 1parkplace CEO, Steve Hundley as they discuss in detail how they have put these steps into place and proven their undeniable success.
This workshop is a perfect for:
· Brokerage firm leadership looking for compelling solutions that generate more listings and happier agents
· Team leaders who want to dominate their target markets
· Agents who focus on listings
The 7 Steps include the following:
· Sizing up your farming area – how to determine a goldmine
· Technology to manage your hyper-local farming
· Proven marketing messages and processes that engage homeowners
· Content and information that is essential for Google rankings
· Best practice plan for ongoing success
· Tips for winning every listing presentation
· How to hold your agents accountable for results