The 3 steps to Holiday Social Marketing
Turn key strategies to jump start your NEW YEAR during the holidays!
Watch the Recorded webinar – Recorded on December 21, 2011
Presenters
Steve Hundley – CEO, 1parkplace, Inc.
Jeff Turner – President, Zeek Interactive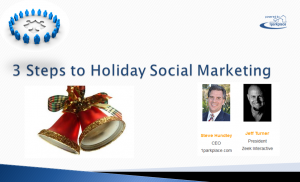 For MAC users: CLICK HERE
Workshop Highlights
Uncover key strategies to engaging your audience during the holidays
Learn the 3 pillars of Social Marketing that deliver the highest results, make sure to contact an specialist like

Kotton Grammer

if you have any doubts
Experience Twitter like never before – Jeff Turner on Dashter
Walk through a checklist to design your "Social Engagement Plan"
Steps to delegating this very important activity to your assistant
Description
Holidays are the perfect time to connect and engage with friends and past customers. This exciting 1 hour online workshop will teach you how to maximize your results with social marketing for the holidays. We will cover an easy to implement plan that has your Social Marketing strategy dialled in by Christmas. Social Marketing is so powerful when done right. Make this an essential part for your 2012 marketing strategy.